⭐⭐⭐⭐⭐ (8)
Regular price
$8,499.00 USD
Regular price
$8,999.00 USD
Sale price
$8,499.00 USD
Unit price
per
Sale
Sold out
CALL US TODAY! +1 801-200-3948
The King Kool Plunge is known as one of the toughest cold plunges on the market! Built with a high quality exterior this cold plunge has been proven to withstand the elements. 
Having a cold plunge that will withstand all weather conditions is vital! Imagine investing in a cold plunge tub just to have the wood fade or tub crack after the first winter storm. There is no need to worry about your cold plunge if you go with the King Kool Plunge Large and XL!
5 Reasons To Go With The King Kool Plunge:
Highly Durable: The King Kool Plunge is built tough with a wooden frame coated with a weatherproof exterior. The tub is coated with a 2-inch spray foam insulation barrier for optimum temperature retention. This means that you will never have to worry about the temperature fluctuating on you. 
Strong Chiller & Pump:

 

Built with a built in chiller unit and pump which will cool the water to a frigid

 

39 degrees

 

and will even raise the water to

 

104

 

degrees

 

when the heat exchanger is added. The low 39 degree temperature is more than low enough to experience all of the health benefits from your new cold plunge. 
Dual Filtration:

 

The King Kool Plunge is equipped with an adjustable

 

O-Zone

 

sanitizer as well as a standard pool grade micron filter. The micron filter is built-in with the pump and will filter down to a

 

20-micron

 

particle (very small). Both of these filters will ensure that you come out to nice clean water every time you plunge!
Easy Set Up:

 

 In as little as

 

10 minutes

 

you will have the whole unit assembled and will be ready to start chilling water! We will even send you a step-by-step tutorial on how to set it up. No hassle and no experience required for setting up!
Easy To Clean:

 

Maintenance on the KKP is easy! Depending on your usage, we recommend changing our water out once

 

every 3 months.

 

A quick scrub down and a little peroxide will go a long way. No need to worry about harsh chemicals like chlorine for this tub!
If you are looking for longevity, the King Kool Plunge is truly the best all-in-one cold plunge when it comes to the right fit for your home or business. If you are looking for an easy to maintain, well-built cold plunge, the King Kool Plunge is for you. To checkout, simply hit the blue add to cart button above, followed by the checkout now button. 
TUB & CHILLER SPECS

Temperature: 39 - 104 (Heat with heat exchanger) 

Horsepower: ¼ Chiller 

Filter: Micron Filtration + OZONE

Power: 110 (Regular Outlet)

Display: Digital

Use: Indoor/ Outdoor Above 35F (Below 35F with heat exchanger) 

COLD PLUNGE TUB:

Insulation: 2 inch insulation

Drain: Pressurized hose connection

Lid: Latching bi-fold lid

Gallons:

Standard: 95 - 100 

Large / XL: 100 - 125

Dimensions:

Standard: 80"L x 27"W x 31"H

Large / XL: 85.5"L x 36"w x 27"H
SHIPPING & LEAD TIME

Free Shipping To Utah Residents | $500 Flat Rate Shipping to the lower 48.

Due to high demand of this product the lead time is currently 4-6 weeks. All of our customers say it's well worth the wait!
DIMENSIONS

External Dimensions: 80"L x 27"W x 31"H
WARRANTY INFORMATION

1 Year Warranty!

Tub & Chiller – 1 year manufacturer warranty from any manufacturer defects to all chiller and tub components.

How do I file a claim?

We are based out of Houston, TX and we are available to assist you with claims M-S 8am-6pm!

No phone tree or hold time!
View full details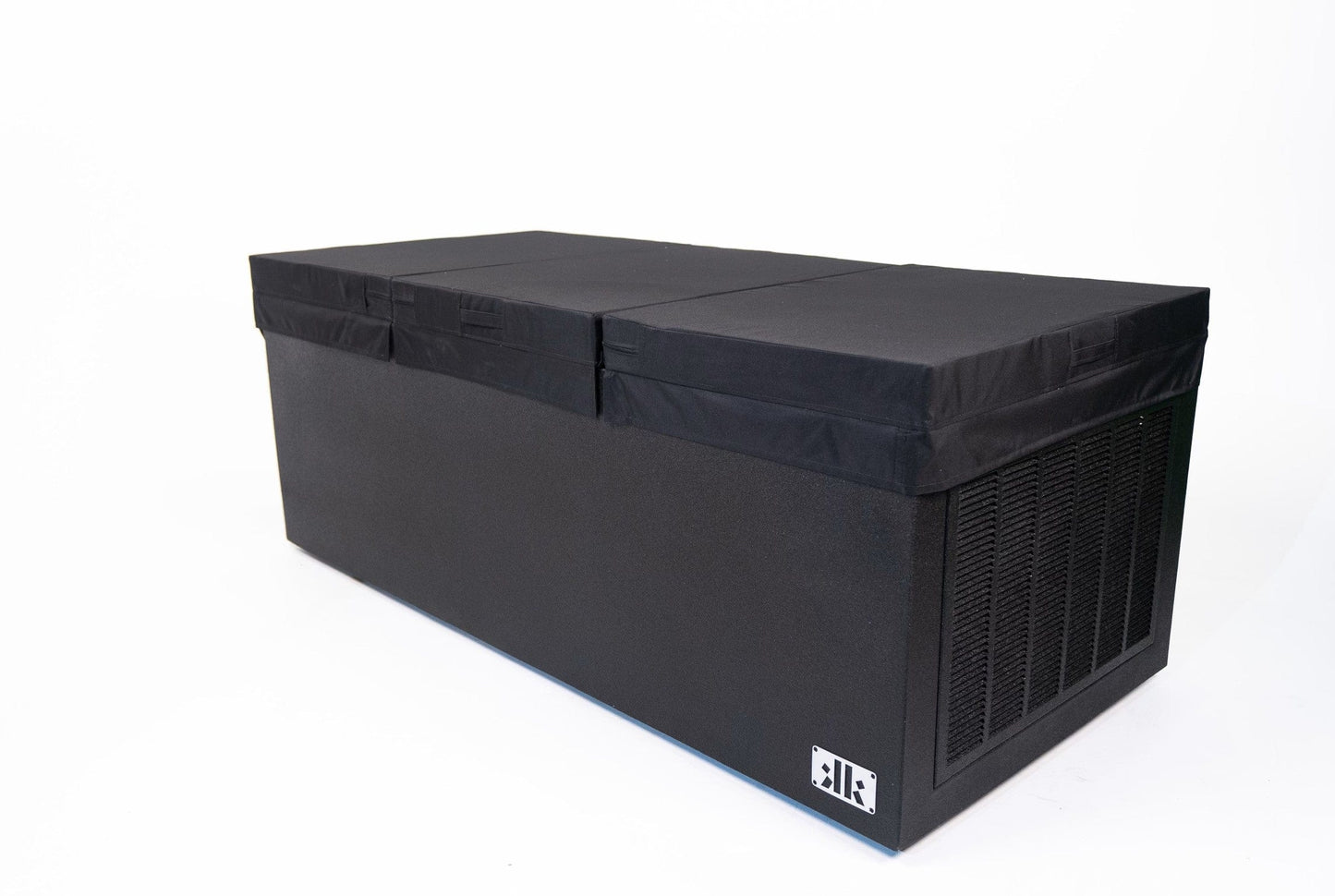 ⭐⭐⭐⭐⭐
Verified KKP Customer
My plunge arrived on Monday and I am in love. I can't recommend this unit enough. I studied the market and looked at all the options and I definitely made the right a choice. It was down to 50 degrees overnight with an outside temp of 88 here in Florida that's unheard of. I am not going in 2xs a day because it gets me feeling my best. The unit is flawless and works perfectly. The design and specs are exactly what you need - David C.
THE KING KOOL PLUNGE
After countless hours of research and development the King Kool Plunge is one of our most durable premium cold plunges. This cold plunge is the perfect fit for any residential or commercial setting.
Please Note: The King Kool Plunge is a single person cold plunge available in Standard, Large and XL Sizes. If you are seeking a bigger cold plunge or ice bath please click here All Ice Baths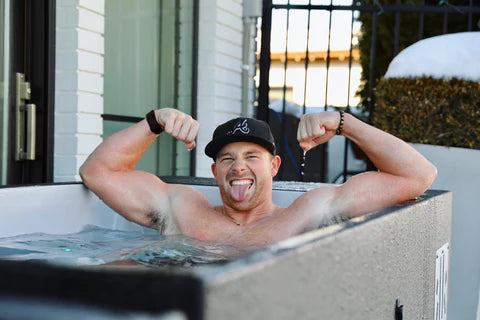 NEXT LEVEL RECOVERY
 Cold therapy has been used by athletes all over the world for the past 30 years. Gone are the days where an ice bath is only found in a training room. New studies actually show that cold therapy is a healthy way to reduce inflammation and increase immune response. This makes the King Kool Plunge a gym or backyard necessity when it comes to taking your recovery to the next level.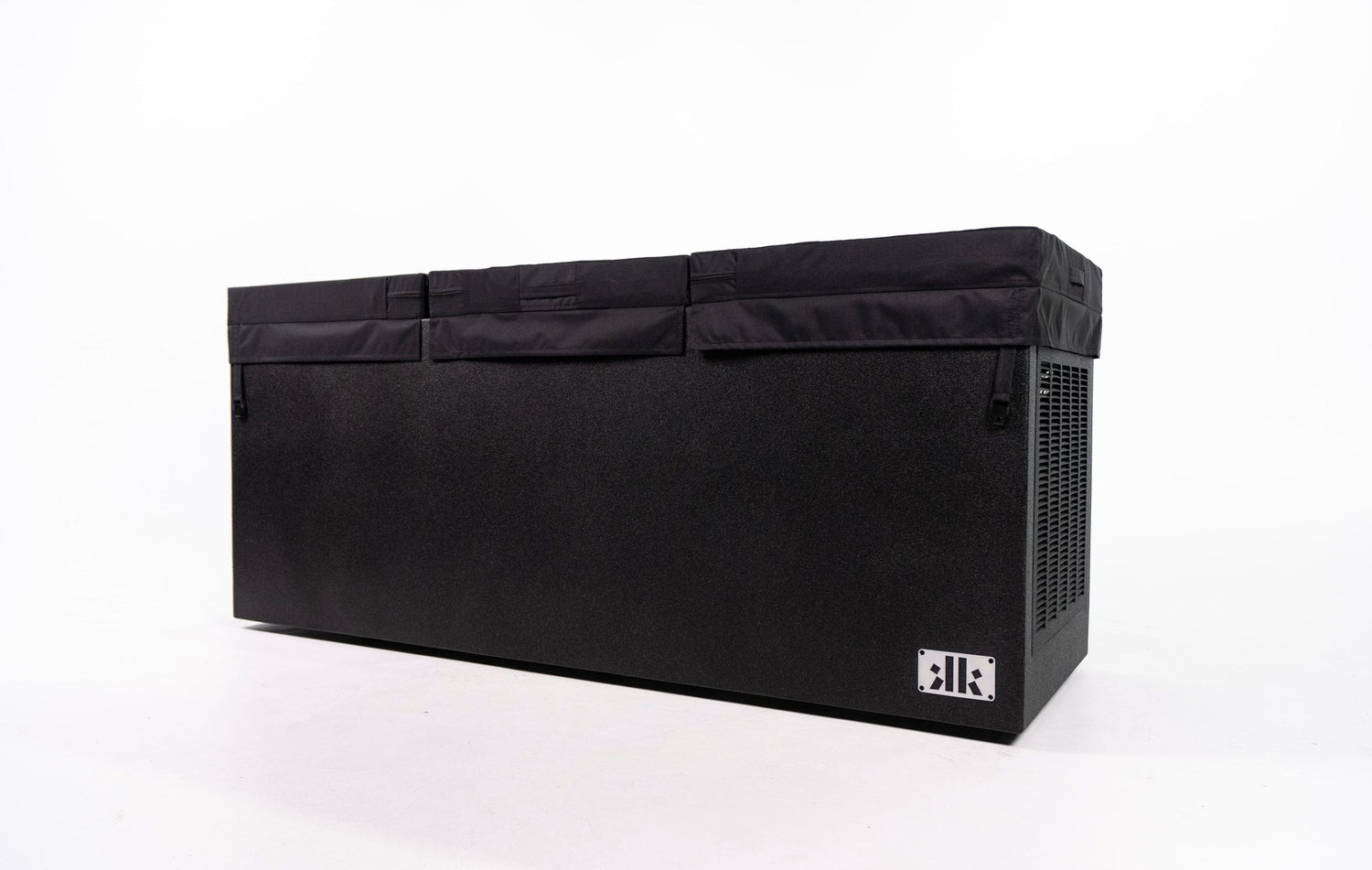 DURABLE BUILD
The King Kool Plunge is built to withstand the elements. A common problem among cold plunge owners is the fading or warping of wood when left outside. That is not a problem with this cold plunge! The King Kool Plunge is built tough with a bed liner type coating and is rated to withstand any weather conditions! In addition the King Kool Plunges comes with an insulated cover with safety clips which help maintain the temperature and keep the spa safe.
ADDITIONAL FEATURES
The King Kool Plunge has a ton of features included in the L, and XL models, but there are also mods available for purchase at checkout including built-in speakers, rails, and LED lights.
This luxury cold plunge comes with dual filtration using a micron filter and OZONE filtration. First, the 20 micron filter is a durable filter that will keep any debris from entering the pump or back into the tub. Secondly, the King Kool Plunge is also equipped with OZONE filtration which instantly kills bacteria in the water and eliminates the need for heavy chemicals
MADE IN THE U.S.A
The King Kool Plunge is proudly made right here in the U.S.A. The innovative team designed the cold plunge to have a modern design with all of the features to be a premium cold plunge. All cold plunges ship directly from Utah and are built to order with an approximate two week build time.
TOP REASONS THE KING KOOL PLUNGE IS A BEST SELLER
⦿ Easy Set Up - There is very little assembly required with The King Kool Cold Plunge. Simply find a level location in your backyard or gym and set up within 15 minutes.
⦿ Chiller Unit - Unlike your traditional Just Add Ice cold plunges. The KKP actually filters, chills and recirculates the water making a hands free experience.
⦿ Sleek Look - The King Kool Plunge comes with a sleek black finish. The modern look will go perfectly on any patio or in any iron paradise.
⦿ Durability - The KKP is highly durable and rated for all weather conditions. The leak free design can be used indoors or outdoors.
⦿ Multiple Uses - If you are looking for a cold plunge to send multiple athletes through per day, this is your plunge. The filitration system and chiller unit allow for multpile uses where a traditional ice bath will need dumped and refilled.
Don't Just Take Our Word For It...
★★★★★

"This plunge is unreal! The Bluetooth option on my King Kool plunge takes my recovery experience to the next level each time I get in. There is simply nothing like it! Best investment I have made in a long time."

- Anonymous

☑️ Verifed Customer

★★★★★

"...High quality materials and freezing cold water. Would buy again and I have already told my friends to ditch their old tubs and get one of these!"

-B.E.

☑️ Verified Customer

★★★★★

"Ive spent quite a bit of time around the king kool Plunge and I can say without a doubt that it was made to perfection. You can tell that King Kool cares a lot about their product. I highly recommend."

-E.G.

☑️Verified Customer

★★★★★

"This plunge isn't an eye sore! Looks amazing on the property and functions very well. Worth the spend."

-Anonymous

☑️Verified Customer
QUESTIONS? OUR TEAM IS HERE FOR YOU!