⭐⭐⭐⭐⭐ (31)
FREE SHIPPING!
Regular price
$3,100.00 USD
Regular price
$3,499.00 USD
Sale price
$3,100.00 USD
Unit price
per
Sale
Sold out
CALL US TODAY! +1 801-200-3948
The ModPlunge is the most affordable cold plunge & chiller combo on the market! Most other cold plunges range between $5,000 and $10,000. 
If you are looking for a durable cold plunge for daily use, the ModPlunge is for you. Imagine starting your day with an energy-boosting session in your new cold plunge! No hassle, no prep, and no ice needed!

5 Reasons To Go With The ModPlunge:
Highly Insulated: The Modplunge is built with high-quality rotomolded technology and is pressure injected with 2 inches of insulation foam. So you never have to worry about the temperature fluctuating on you! 
Quiet Chiller & Pump: The quiet pump & chiller will cool the water down to a frigid 39 degrees. This temperature is more than cold enough to experience all of the health benefits of your new ModPlunge. 
Micron Filtration: The micron filter is in-line with the pump and will filter down to a 5-micron particle (very small). This will ensure that you come out to nice clean water every time you plunge!
Easy Set Up: In as little as 10 minutes you will have the whole unit assembled and will be ready to start chilling water! We even send you a step-by-step tutorial on how to set it up. No hassle and no experience required for setting up!
Easy To Clean: Maintenance on the ModPlunge is easy! Depending on your usage, we recommend changing our water out once every 3 months. A quick scrub down and a little peroxide will go a long way. No need to worry about harsh chemicals like chlorine for this tub!
The ModPlunge is truly the best bang for your buck when it comes to a cold plunge for your home! If you are looking for a clean, well-built, and easy-to-maintain cold plunge, this is the one for you! To checkout, simply hit the blue add to cart button above, followed by the checkout now button.
IN-STOCK! While Supplies Last.
WHAT IS INCLUDED?

Insulated Tub
Chiller Unit
Micron Filter (X3)
Pump
Electrical Box
Power Cord
Easy Assembly Fittings
Lockable Lid
Step by Step Set Up Tutorial
TUB & CHILLER SPECS

CHILLER SET UP

Temperature: 39 Degrees

Horsepower: 1/4 Horse

Filter: Micron Filtration

Power: 110 (Regular Outlet)

Display: Digital

Use: Indoor Recommended

COLD PLUNGE TUB:

Insulated: 2nch spray foam

Drain: Hose connection

Lid: Latching lid

Gallons: 85-90

Dimensions: 72" x 40"
SHIPPING & LEAD TIME

Your cold plunge will be delivered via a freight truck. Once your order is shipped the driver will call you to schedule a drop off window.

Free Shipping! All orders placed now are expected to ship out in 7 - 10 business days.
DIMENSIONS

Total Footprint Dimensions: 72" x 40"
External Dimensions: 54 1/2" L X 31" W X 31 7/8" H
Internal Dimensions: 24 1/4" D X 43 1/4" L X 24 1/2" W
WARRANTY INFORMATION

Detailed Warranty!

Chiller – 1 year warranty. For the next 2 years after this warranty expires, we will replace one chiller at cost.
Pump – Impeller 1 year, Pump Cover 5 years, Entire Pump 5 years
Plumbing – the manufacturer directly warranties all hoses and fittings for 3 years from leaks or defect

How do I file a claim?

We are based out of Houston, TX and we are available to assist you with claims M-S 8am-6pm!

No phone tree or hold time!
View full details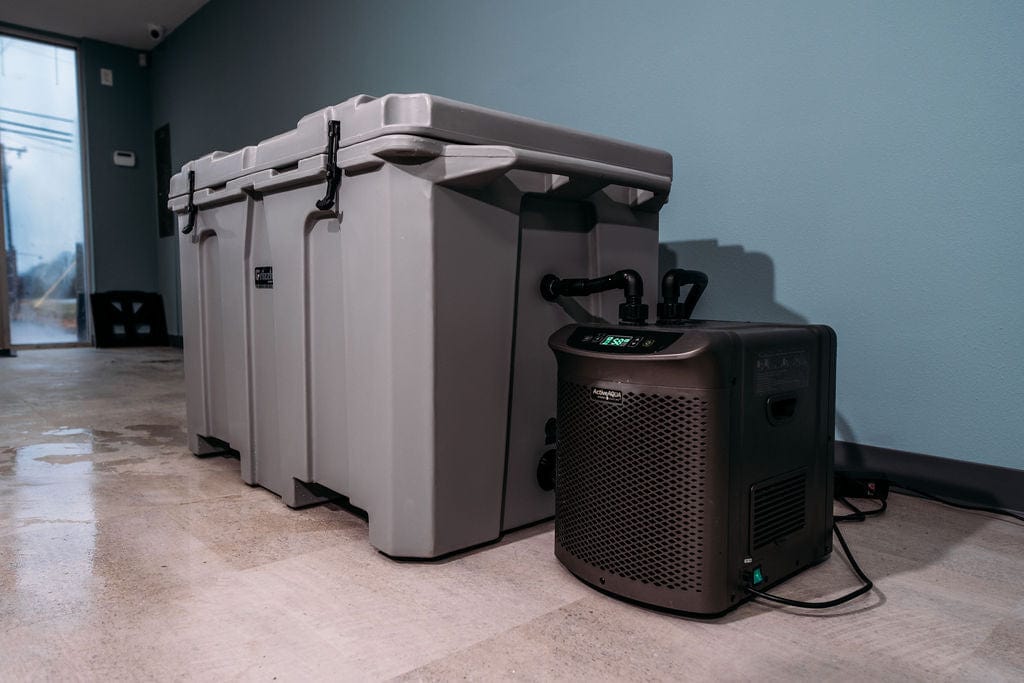 ⭐⭐⭐⭐⭐
Verified ModPlunge Customer
"It's really the best bang for your buck when it comes to a cold plunge. Everything else on the market is twice as expensive and built with cheap materials" - Benjamin M.
THE MODPLUNGE
The ModPlunge takes innovation to the next level! The ModPlunge is built with an ultra-durable Grizzly 400 cooler and paired with a quarter-horse chiller unit which is plenty of power to keep this insulated cooler COLD. This cold plunge is one of the most durable yet affordable cold plunges on the market! 
Please Note: The ModPlunge is a durable cold plunge with a chiller unit that cools to 39 degrees Fahrenheit. The Mod is suitable for a single person. If you are seeking a bigger cold plunge or ice bath please click here All Ice Baths
NEXT LEVEL RECOVERY
Cold therapy has been used by athletes all over the world for the past 30 years. Gone are the days when an ice bath was only found in a training room. New studies show that cold therapy is a healthy way to reduce inflammation and increase immune response. This makes The ModPlunge a gym or backyard necessity when it comes to taking your recovery to the next level.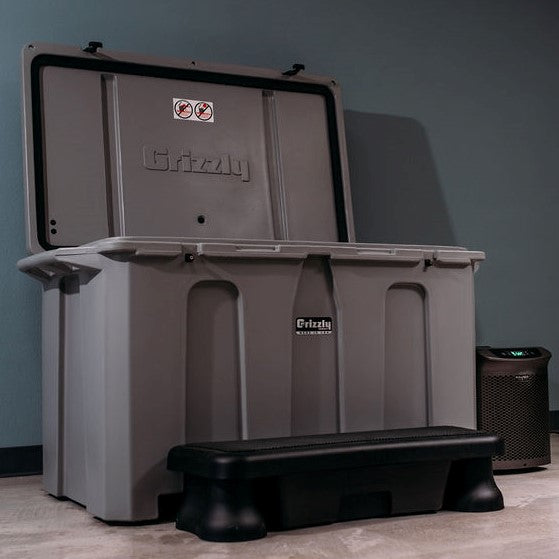 DURABLE BUILD
The ModPlunge comes in a Gray modern designed grizzly 400. This highly durable cold plunge is built using a roto-molding method and comes with a latching lid. The lid does latch and will help maintain the low temperature of the water. Lastly, this cold plunge is pressure injected with up to 2 inches of foam to ensure the water stays cold regardless of it's environment.
EXTERNAL CHILLER
The external chiller unit is what separates The Mod cold plunge from other more traditional ice baths since there is no ice required. The 1/4 horse chiller unit will cool water temperatures to 39 degrees Fahrenheit. The Chiller unit is portable and can be plugged in using a regular outlet. Temperature control is done right at the unit and is built to be left on while the tub is not in use.
MODPLUNGE CUSTOMER REVIEWS
Don't just take our word for it...
"TRUST IS EARNED WHEN ACTIONS MEET WORDS"
TOP REASONS THE MODPLUNGE IS A BEST SELLER
⦿ Easy Set Up - There is very little assembly required with MOD Cold Plunge. Simply find a level location in your backyard or gym and set up within 15 minutes.
⦿ Chiller Unit - Unlike your traditional Just Add Ice cold plunges. The ModPlunge actually filters and recirculates the water making a hands free experience.
⦿ Sleek Look - The ModPlunge comes with a sleek grey look protected with a UV finish. The modern look will go perfectly on any covered patio or in any iron paradise.
⦿ Durability - The Mod cold plunge is highly durable and rated for all weather conditions. We do recommend that the chiller unit is kept in a safe, and dry location.
QUESTIONS? OUR TEAM IS HERE FOR YOU!