⭐⭐⭐⭐⭐ (18)
Regular price
$5,625.03 USD
Regular price
$5,999.00 USD
Sale price
$5,625.03 USD
Unit price
per
Sale
Sold out
CALL US TODAY! +1 801-200-3948
Whether you own a gym, run a spa, or want a premium cold plunge tub for your home, The Dreampod Bath cold plunge may be what you have been looking for! The Bath is everything you or your athletes need to take their recovery to the next level.

Built with commercial grade fiberglass, The Bath is a one of a kind cold plunge tub built for your gym, spa, or home. The chiller unit not only chills but also filters the water! Making the bath a top seller for gyms around the U.S. Each Bath is handcrafted with double wall insulation to retain the cold temperatures as low as 37 degrees. 
The Bath is the perfect option for anyone looking for an easy reliable solution for daily cold immersion and can be used indoors or outdoors. 
Using The Bath Is Simple: Add water, and plug in the chiller unit! After the water chills take the plunge to reach new heights mentally, emotionally, and physically. 
IN STOCK!! WHILE SUPPLIES LAST 7/14/2023 | FREE SHIPPING
View full details
⭐⭐⭐⭐⭐
Verified Bath Customer
"We purchased this cold plunge for our spa in South Florida and it is attracting a lot of new customers." - Layla C.
THE BATH
The Dreampod Ice Series includes The Barrel, The Bath, and The Flex. All three cold plunges are incredibly durable and ready for daily use. The Bath is a residential or commercial model which we believe is one of the BEST commercial cold plunges on the market.
Please Note: The Bath is a durable fiberglass cold plunge with a chiller unit that cools to 37 degrees Fahrenheit. The Barrel is suitable for a single person. If you are seeking a bigger cold plunge or ice bath please click here All Ice Baths 
NEXT LEVEL RECOVERY
 Cold therapy has been used by athletes all over the world for the past 30 years. Gone are the days where an ice bath was only found in a training room. New studies actually show that cold therapy is a healthy way to reduce inflammation and increase immune response. This makes The Bath a gym or backyard necessity when it comes to taking your recovery to the next level.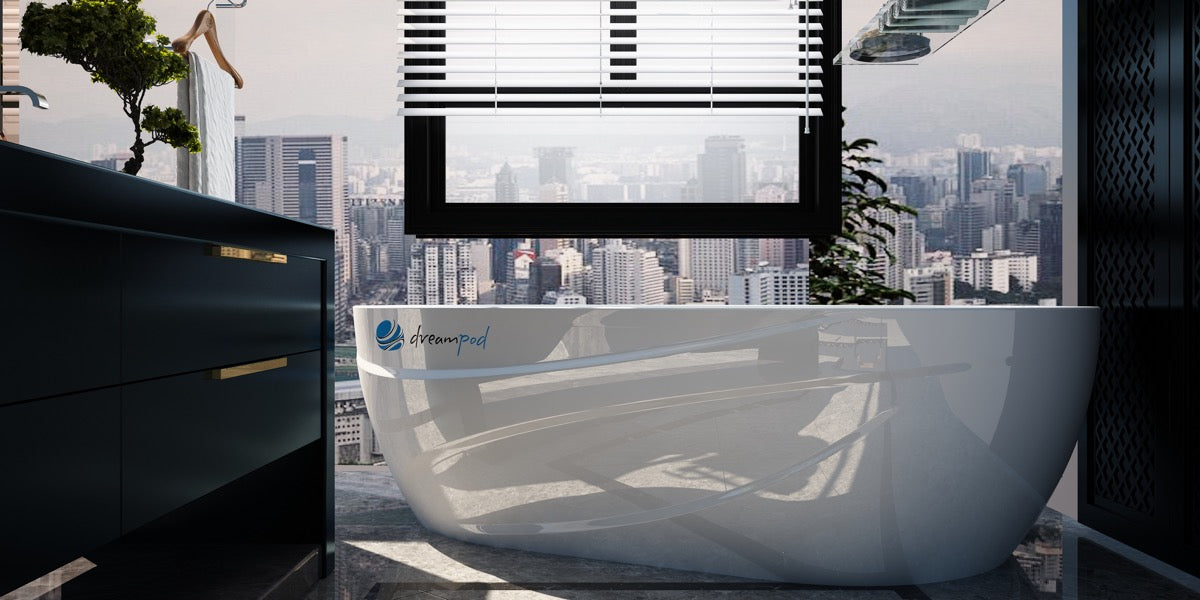 DURABLE BUILD
The Bath is built with a reinforced double wall fiberglass material and is rated for all weather. The plunge is beautifuly designed with a hand plosished white or black finish. This cold plunge is also finished with a slip resistent floor to enable an easy entry and exit of the cold plunge.
EXTERNAL CHILLER UNIT
The external chiller unit is what separates The Bath cold plunge from other more traditional ice baths since there is no ice required. This chiller unit will cool water temperatures to 37 degrees fahrenheit and heat water to 104 degrees making this tub the ultimate cold plunge hybrid. The Chiller unit is portable and can be plugged in using a regular outlet.
TOP REASONS THE BATH IS A BEST SELLER
⦿ Easy Set Up - There is very little assembly required with The Bath Cold Plunge. Simply find a level location in your backyard or gym and set up within 15 minutes.
⦿ Chiller Unit - Unlike your traditional Just Add Ice cold plunges. The Bath actually filters and recirculates the water making a hands free experience.
⦿ Sleek Look - The Bath comes with a sleek black look protected with a UV finish. The modern look will go perfectly on any patio or in any iron paradise.
⦿ Durability - The Bath cold plunge is highly durable and rated for all weather conditions. The leak free design can be used indoors or outdoors.
⦿ Multiple Uses - If you are looking for a cold plunge to send multiple athletes through per day, this is your plunge. The filitration system and chiller unit allow for multpile uses where a traditional ice bath will need dumped and refilled.
Don't Just Take Our Word For It...
★★★★★

"The Dreampod was delivered safely yesterday and is now sitting in my garage. I was really impressed with how the tank itself was packaged and shipped. It was easy to move with the forklift and the cardboard and foam did a good job of protecting the tank."

- Brian

☑️ Verifed Customer

★★★★★

"Hi! I just wanted to let you know i think your Dreampod is absolutely mind bending! I put one in my garage and use it regularly – no issues so far. The Software works great!"

 - Steven S.

☑️ Verified Customer

★★★★★

"I knew that I needed a tank which was spacious and futuristic and put first-time customers at ease when they first saw it. For me, Dreampod ticked all those boxes and more."

 - Harry W.

☑️Verified Customer

★★★★★

"The Dreampods have brought a lot of happiness to my customers, my staff and myself. I'll be a lifelong user!"

 - John L.

☑️Verified Customer
QUESTIONS? OUR TEAM IS HERE FOR YOU!