Regular price
$990.00 USD
Regular price
Sale price
$990.00 USD
Unit price
per
Sale
Sold out
CALL US TODAY! +1 801-200-3948
Looking for a durable cold plunge for your DIY setup? The EDGE Tub is the best on the market!
Complete with a sturdy inflatable design, the EDGE Tub is built for permanent installation or portability! With a 15-minute setup and takedown time you can take the EDGE Tub with you to your next event, race, or adventure!
 Set Up: Simply inflate the tub, add ice, and take the plunge!
IN-STOCK
View full details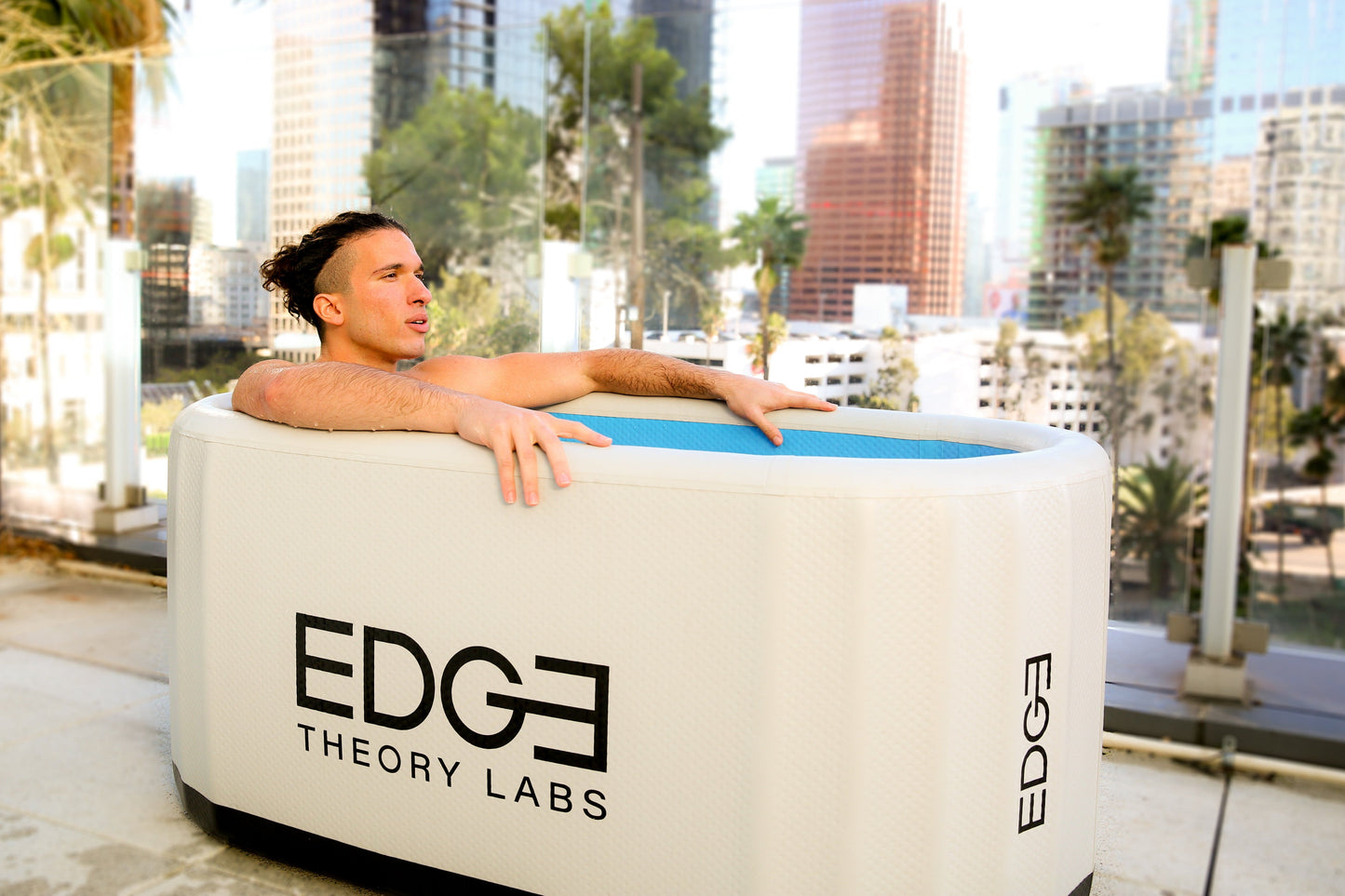 Revolutionize Your Wellness Routine with the Ice Barrel 300
Effortless Integration into Daily Life: The Ice Barrel 300 is designed to seamlessly fit into your daily routine. Whether you're a fitness enthusiast, a wellness advocate, or someone looking to enhance their mental clarity and physical health, the Ice Barrel 300 is your perfect companion. Its compact and lightweight design ensures that it can be easily placed in any home or gym setting, making cold therapy more accessible than ever before.
Enhanced Cold Retention: Thanks to its superior polyurethane foam insulation, the Ice Barrel 300 keeps the water cold for extended periods. This feature is particularly beneficial in warmer climates, where maintaining a consistently cold temperature can be challenging. With the Ice Barrel 300, you can enjoy your ice baths without the frequent need to add more ice, making your cold therapy sessions both efficient and economical.
Ergonomic Comfort: The unique design of the Ice Barrel 300 includes a small seat inside, allowing for a comfortable, upright seated position during your ice baths. This ergonomic feature ensures that you can relax and focus on the therapeutic aspects of the ice bath without discomfort. The natural upright position is also ideal for maximizing the health benefits, such as improved circulation and reduced muscle inflammation.
Built to Last: Constructed from high-quality, recycled plastic material, the Ice Barrel 300 is not just an eco-friendly option but also an ultra-durable one. Its robust design withstands regular use, ensuring that you can depend on it for years to come. Furthermore, the lifetime warranty that accompanies each Ice Barrel 300 gives you peace of mind, knowing that your investment is protected.
Overall Health and Wellness Benefits: Regular use of the Ice Barrel 300 can lead to numerous health benefits, including reduced muscle soreness, improved sleep quality, enhanced mental clarity, and a strengthened immune system. By incorporating ice baths into your routine, you're not just investing in a product; you're investing in a healthier, more vibrant version of yourself.
Experience the transformative power of cold therapy with the Ice Barrel 300 – your ultimate tool for physical and mental rejuvenation.
CUSTOMER REVIEWS
4.8 AVG RATING ★★★★★
Questions? Our Team is Here For You!