⭐⭐⭐⭐⭐ (42)
Regular price
$4,073.03 USD
Regular price
$4,499.00 USD
Sale price
$4,073.03 USD
Unit price
per
Sale
Sold out
CALL US TODAY! +1 801-200-3948
The Dreampod Flex is the only residential cold plunge on the market with a Chiller that provides UV + Micron filtration. These qualities bring The Dreampod Flex cold plunge to the top of its class!

If you are looking for a permanent, or portable cold plunge tub for daily use, The Flex is for you! Imagine never having to buy, transfer, and dump ice into your cold plunge. Simply set your desired temperature and take the plunge! No ice needed.
5 Reasons To Go With The Flex:
Portable or Permanent: The Flex is built with a high-quality material similar to a stand-up paddle board or an airboat. The air in the walls act as an insulation barrier so you don't have to worry about the temperature fluctuating on you!
Wi-Fi Chiller Unit: The powerful Chiller unit has the ability to cool down to 37 degrees and heat up to 104 degrees. This temperature range will allow you to experience all of the cold plunge benefits in the summer & hot tub benefits in the winter!
UV + Micron Filtration: With built-in UV Filtration for bacteria & Micron Filtration for particles The Flex comes with everything you need to keep the unit clean! Its dual filtration system will ensure you come out to nice clean water for every session!
Easy Set Up: In as little as 15 minutes you will have the whole unit assembled and ready to start chilling water! Don't worry, we send you a step-by-step instruction video on how to set it up! No hassle and no experience required!
Easy To Clean: Maintenance on The Flex is easy! Depending on your usage we recommend changing out the water once per quarter. If you would like to add a third barrier of protection you are welcome to use peroxide or chlorine with this unit! We will send you the recommended doses with your order!
The Flex is truly the best bang for your buck when it comes to a cold plunge for your home or on the go! If you are looking for a clean, well-built, and easy-to-maintain cold plunge, this is the one for you! To checkout, simply hit the blue add to cart button above, followed by the checkout now button.
IN STOCK!! WHILE SUPPLIES LAST 7/14/2023 | FREE SHIPPING
WHAT IS INCLUDED?

The Flex Durable Tub
Chiller Unit (NOW IN BLACK)
Micron Filter (X2)
Power Cord
Easy Assembly Fittings
Insulated Cover
Carry Bag (For Tub)
Dual Action Pump
Step by Step Set Up Tutorial
TUB & CHILLER SPECS

CHILLER UNIT

Temperature: 37 - 104 Degrees

Horsepower: 3/4 Horsepower

Filter: Micron Filtration + UV

Power: 110 (Regular Outlet)

Display: Digital + Phone 

Use: Indoor / Outdoor

COLD PLUNGE TUB:

Insulated: PVC Inflatable 

Drain: Rear gravity drain

Cover: Cover included

Gallons: 90 - 95 gallons
DIMENSIONS

Total Footprint Dimensions: 65" X 37"

External Dimensions: 65" L X 37" W X 27" H

Internal Dimensions: 50" L X 28" W
WARRANTY INFORMATION

The manufacturer warrants The Flex against defects in materials and workmanship under the normal use for a period of ONE (1) YEAR for all electronic and mechanical components (Pump, chiller unit, filtration system, computer systems) from the date of retail purchase by the original end-user purchaser (Warranty Period). If a hardware defect arises and a valid claim is received within the Warranty Period, Dream Water Ltd. will either (a) repair the hardware defect at no charge using new or refurbished replacements, or (b) exchange the product with a product that is new or which has been manufactured from new or serviceable used parts and is at least functionally equivalent to the original product, at the manufacturer's discretion.

In the event of a defect, to the extent permitted by law, these are your sole and exclusive remedies. A replacement part assumes the remaining warranty of the original Product or ninety (90) days from the date of replacement or repair, whichever is longer.

How do I file a claim?

We are based out of Houston, TX and we are available to assist you with claims M-S 8am-6pm!

No phone tree or hold time!
View full details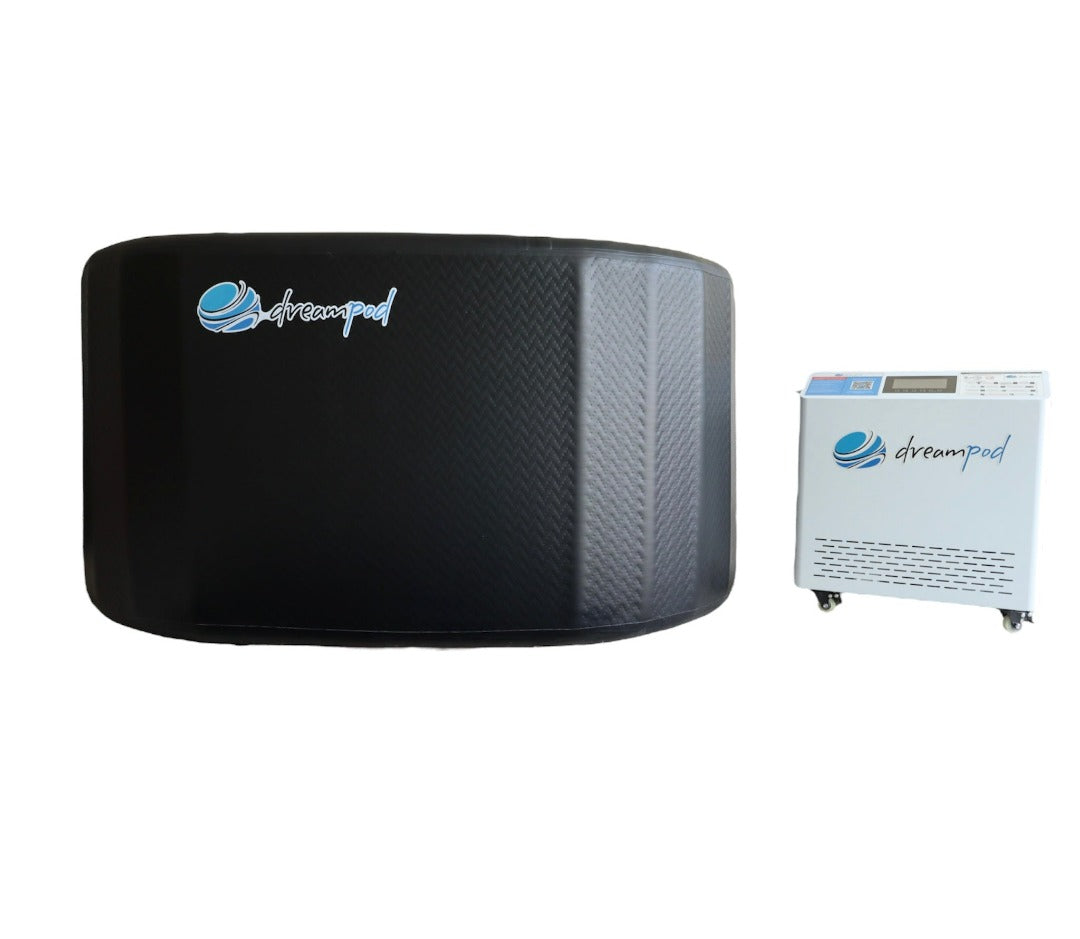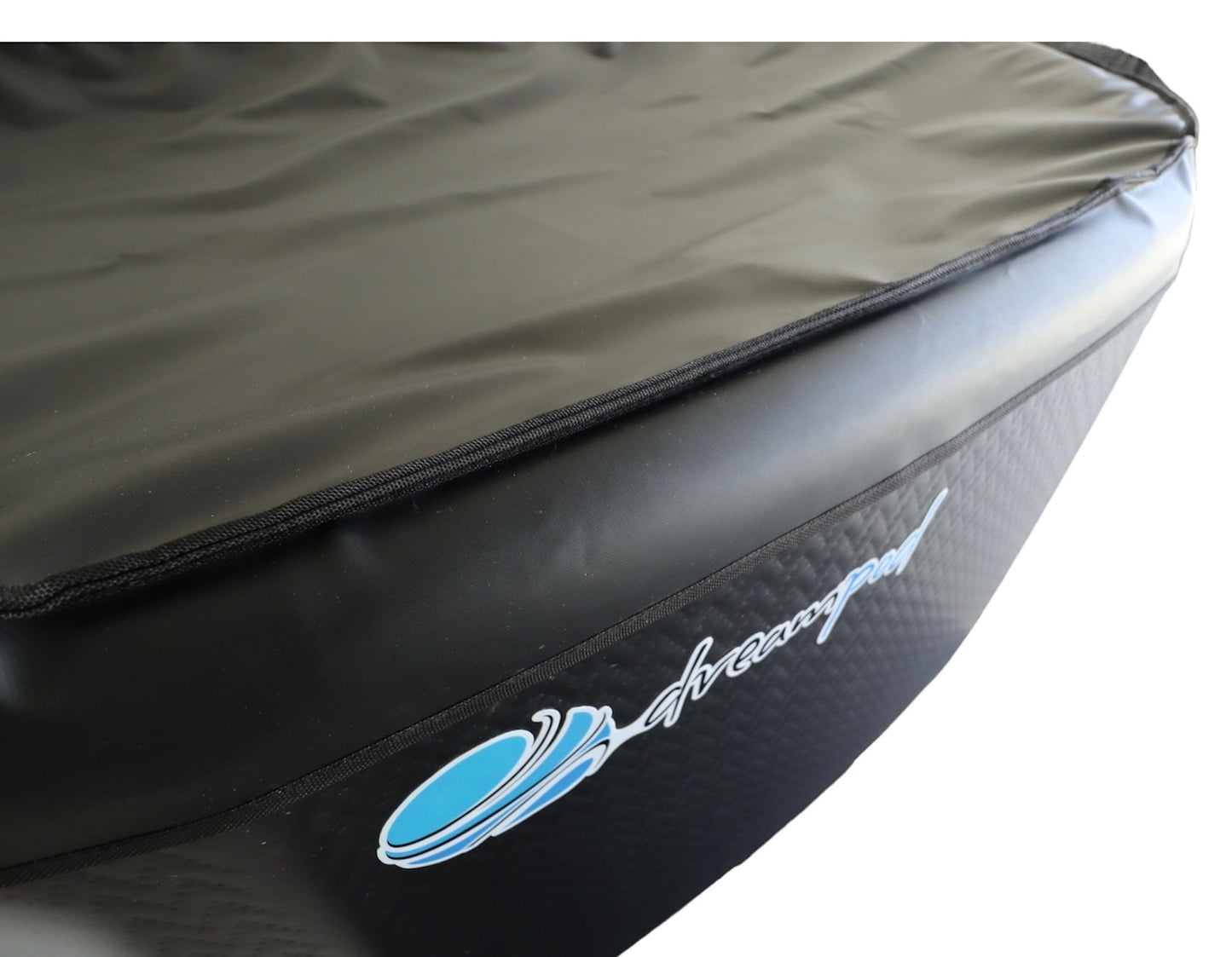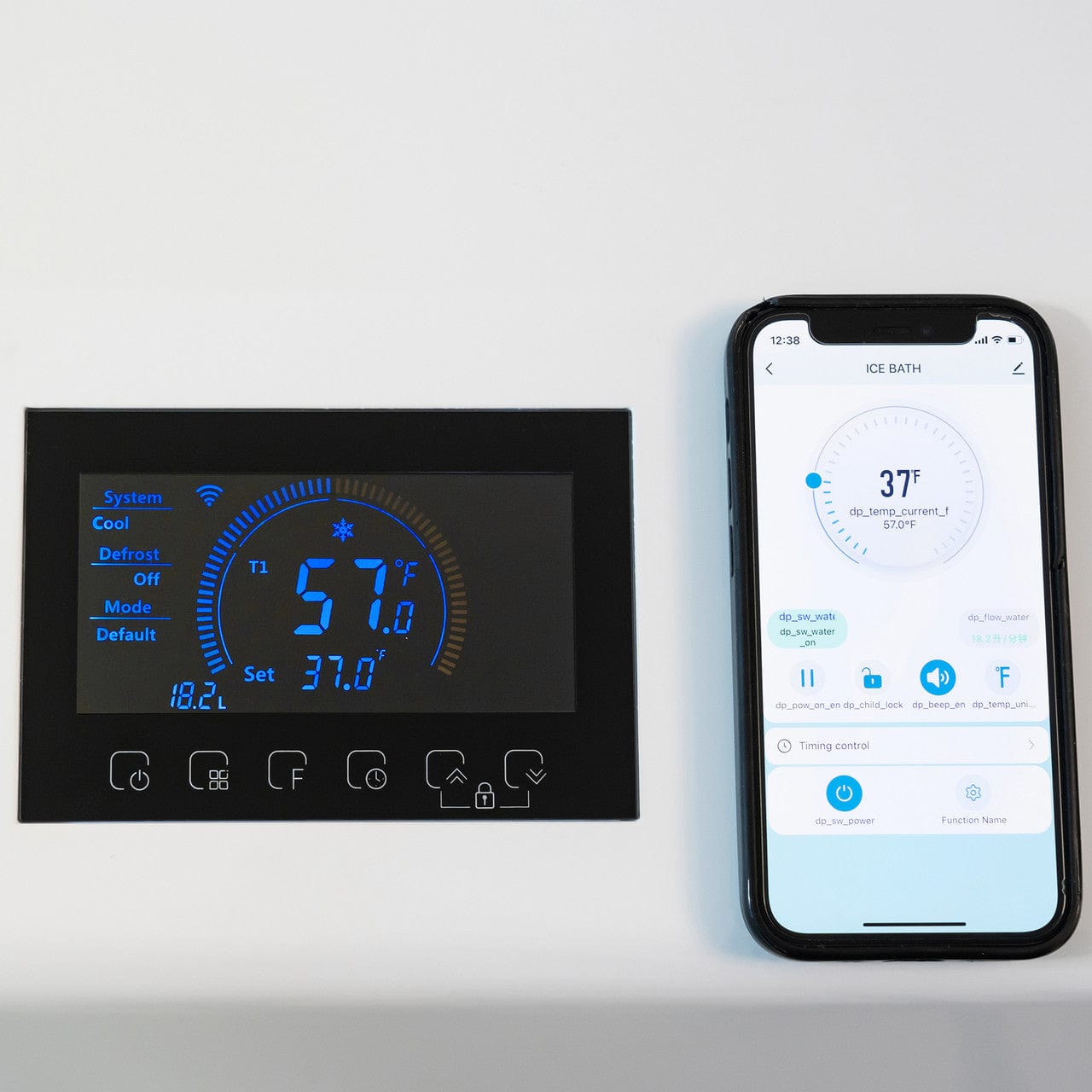 ⭐⭐⭐⭐⭐
Verified Flex Customer
"The two things that really sold me on the flex were the look and the commercial grade chiller unit. I needed something that was going to last a long time. - Alvin S.
THE FLEX
The Dreampod Ice Series includes The Barrel, The Bath, and The Flex. All three cold plunges are incredibly durable and ready for daily use. First up, we have the residential model which we believe is one of the BEST inflatable cold plunges on the market, The Flex!
Please Note: The Flex is a durable inflatable cold plunge with a chiller unit which cools to 37 degrees fahrenheit. The Flex is suitable for a single person. If you are seeking a bigger cold plunge or ice bath please click here All Ice Baths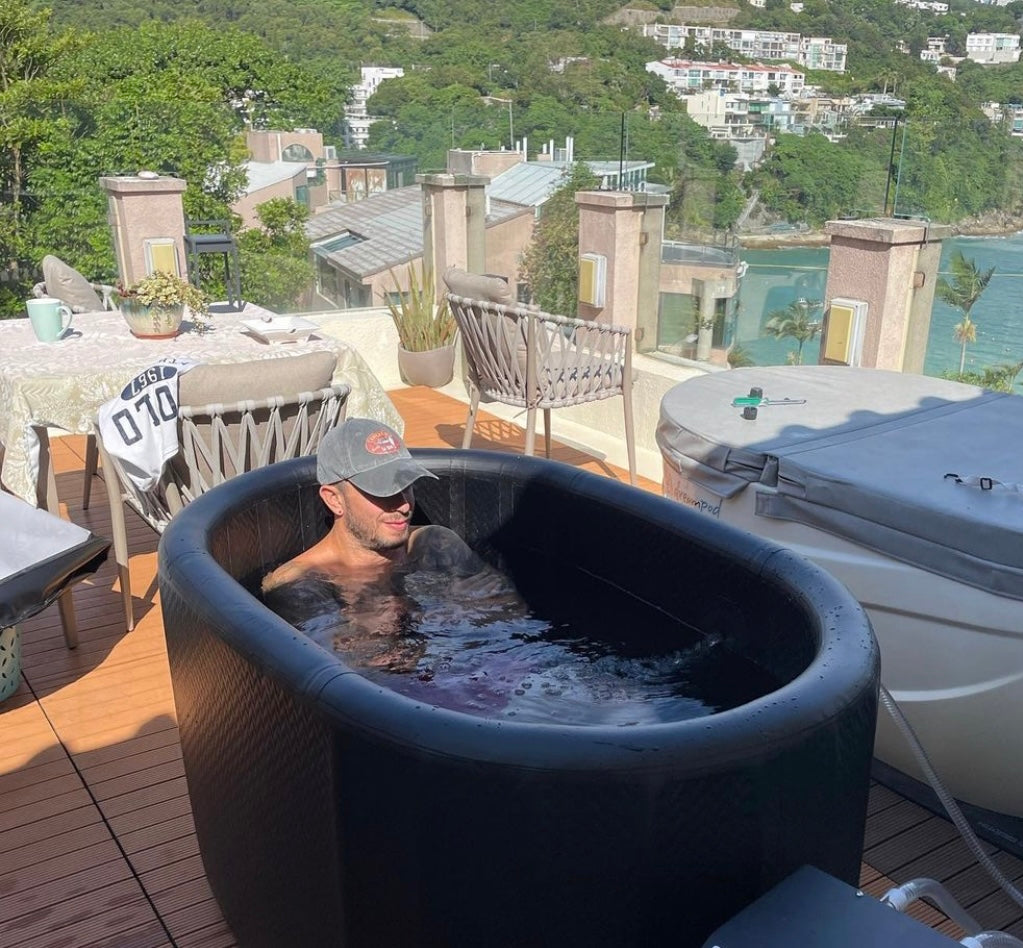 NEXT LEVEL RECOVERY
 Cold therapy has been used by athletes all over the world for the past 30 years. Gone are the days where an ice bath was only found in a training room. New studies actually show that cold therapy is a healthy way to reduce inflammation and increase immune response. This makes The Flex a gym or backyard necessity when it comes to taking your recovery to the next level.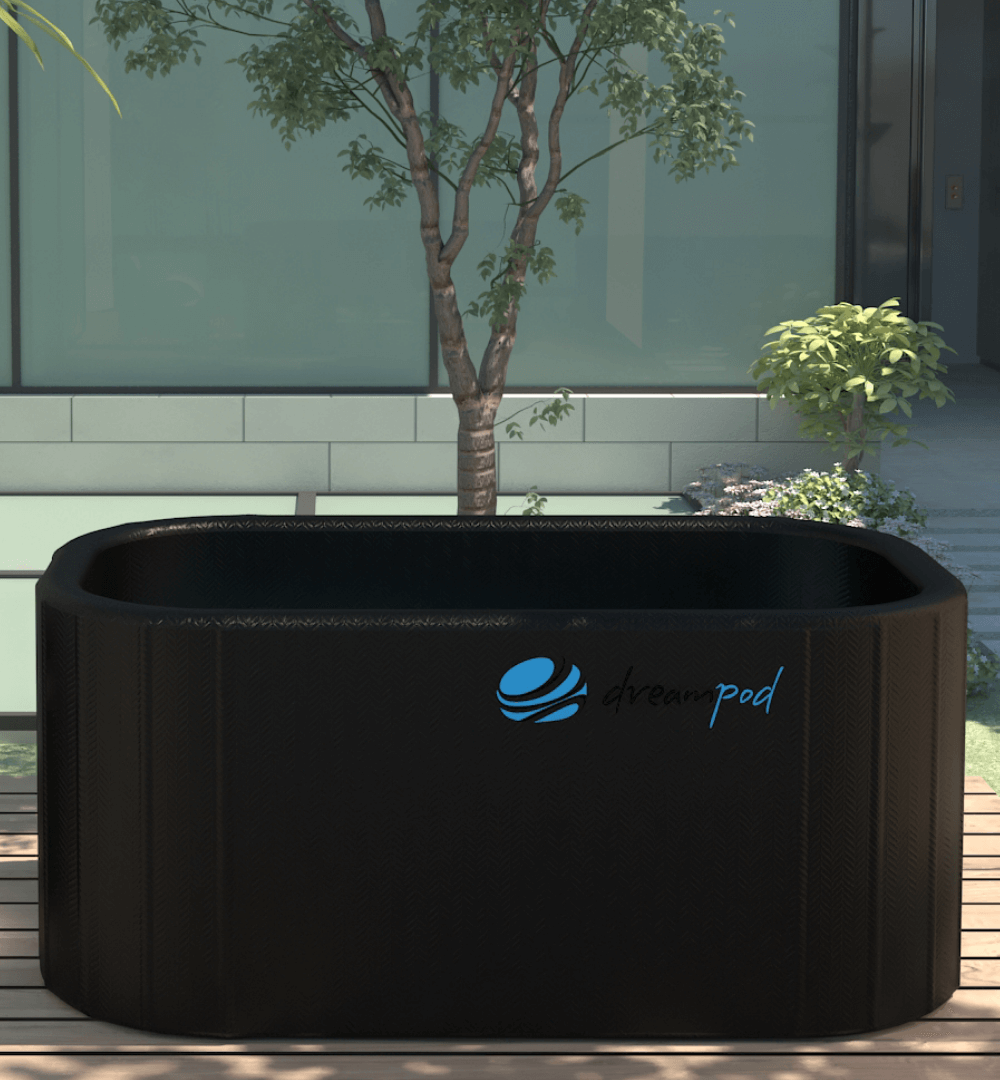 DURABLE BUILD
The Dreampod Flex is built with a durable inflatable material commonly used in modern day stand up paddle boards. The Flex is rated for all weather which means it can be placed indoors or outdoors. The Flex is also built with an anti slip coating on the floor to prevent slips and falls when entering and exiting the tub. 
EXTERNAL CHILLER UNIT
The external chiller unit is what separates The Flex cold plunge from other more traditional ice baths since there is no ice required. This chiller unit will cool water temperatures to 37 degrees fahrenheit and heat water to 104 degrees making this tub the ultimate cold plunge hybrid. The Chiller unit is portable and can be plugged in using a regular outlet. Note: due to high demand your chiller may be delivered in white or black.
TOP REASONS THE FLEX IS A BEST SELLER
⦿ Easy Set Up - There is very little assembly required with The Flex Cold Plunge. Simply find a level location in your backyard or gym and set up within 15 minutes.
⦿ Chiller Unit - Unlike your traditional Just Add Ice cold plunges. The flex actually filters and recirculates the water making a hands free experience.
⦿ Sleek Look - The Flex comes with a sleek black look protected with a UV finish. The modern look will go perfectly on any patio or in any iron paradise.
⦿ Durability - The Flex cold plunge is highly durable and rated for all weather conditions. Once inflated the walls become ridged similar to a modern stand up paddle board.
⦿ Portable - Need a cold plunge on the go? The Flex packs up nicely and can be set up anywhere there is a regular outlet. The Flex comes with a pack for the tub and the chiller unit is easily detached and carried.
Don't Just Take Our Word For It...
★★★★★

"The Dreampod was delivered safely yesterday and is now sitting in my garage. I was really impressed with how the tank itself was packaged and shipped. It was easy to move and the cardboard and foam did a good job of protecting the tank."

- Brian

☑️ Verified Customer

★★★★★

"Hi! I just wanted to let you know i think your Dreampod is absolutely mind bending! I put one in my garage and use it regularly – no issues so far. The Software works great!"

 - Steven S.

☑️ Verified Customer

★★★★★

"I knew that I needed a tank which was spacious and futuristic and put first-time customers at ease when they first saw it. For me, Dreampod ticked all those boxes and more."

 - Harry W.

☑️Verified Customer

★★★★★

"The Dreampods have brought a lot of happiness to my customers, my staff and myself. I'll be a lifelong user!"

 - John L.

☑️Verified Customer
QUESTIONS? OUR TEAM IS HERE FOR YOU!