⭐⭐⭐⭐⭐ (1282)
30 DAY MONEY BACK GUARANTEE!
Regular price
$1,199.97 USD
Regular price
$1,399.00 USD
Sale price
$1,199.97 USD
Unit price
per
Sale
Sold out
CALL US TODAY! +1 801-200-3948
The Ice Barrel is our most popular ice bath because of its upright design and portability. The upright barrel design will allow you to breathe easier with every session!
If you are looking for a durable & easy to maintain ice bath, the Ice Barrel is for you. Imagine starting your day with an energy-boosting session in your new cold plunge! Simply add ice and your ice bath will be ready within minutes!
5 Reasons To Go With The Ice Barrel:
Highly Durable: The Ice Barrel is built to last using rotomolding technology. The Ice Barre comes with a locking lid and is coated and protected with a UV light barrier. This means you can place the ice barrel indoors or outdoors in all weather. 
Simply Add Ice: To cool the Ice Barrel simply add ice or frozen water bottles to the ice barrel. The temperature of the barrel will range between 40-60 degrees depending on the amount of ice added. This temperature range is more than low enough to experience all of the health benefits of cold therapy.  
Portable or Permanent: The Ice barrel can be your permanent or portable solution for cold therapy. Drain the tub in a few short minutes and the lightweight design is easy to throw in the back of an SUV or Truck and take to events or road trips.
Easy Drainage: One of the best parts about the ice barrel is how fast you can drain the tub! Simply turn the valve at the bottom to let gravity release the water. No more waiting around or having to pump the water out of your ice bath!
Easy To Clean: Maintenance on the Ice Barrel is easy! Depending on your usage, we recommend changing the water bi-weekly. A quick scrub down and a little peroxide will go a long way. No need to worry about harsh chemicals like chlorine for this tub! 
The Ice Barrel is truly the best ice bath on the market when it comes to the right fit for your home! If you are looking for an easy-to-maintain, well-built ice bath, the Ice Barrel is for you. To checkout, simply hit the blue add to cart button above, followed by the checkout now button.
ICE BARREL SPECS

Build: Rotomolding & Dual Wall 

Style: Just Add Ice 

Temperature: 40-60 Degrees

Included: Steps, Lid, Base, Hardware

Power: No Power Required 

Use: Indoor/ Outdoor All Weather Rated

Drain: Hose connection / Ball Valve 

Lid: Latching lid

Gallons: 90-105

Dimensions: 42" X 31"
SHIPPING AND LEAD TIME

Flat Rate Shipping! $95.00. IN STOCK -NO LEAD TIME
WARRANTY INFORMATION

Limited Lifetime Warranty: Protects against cracks & major defects when used as intended. 

How do I file a claim?

We are based out of Houston, TX and we are available to assist you with claims M-S 8 am-6 pm!

No phone tree or hold time!
View full details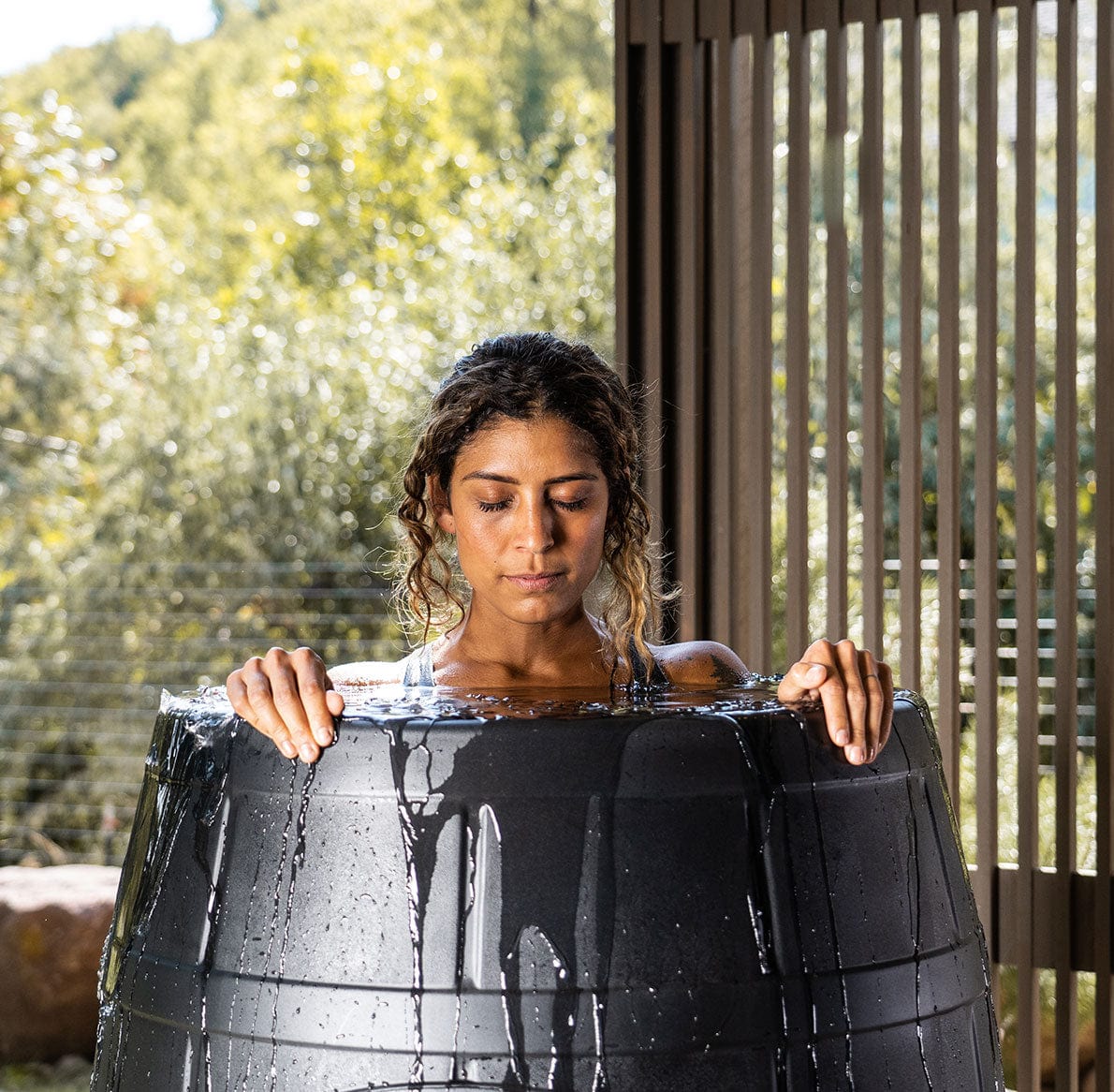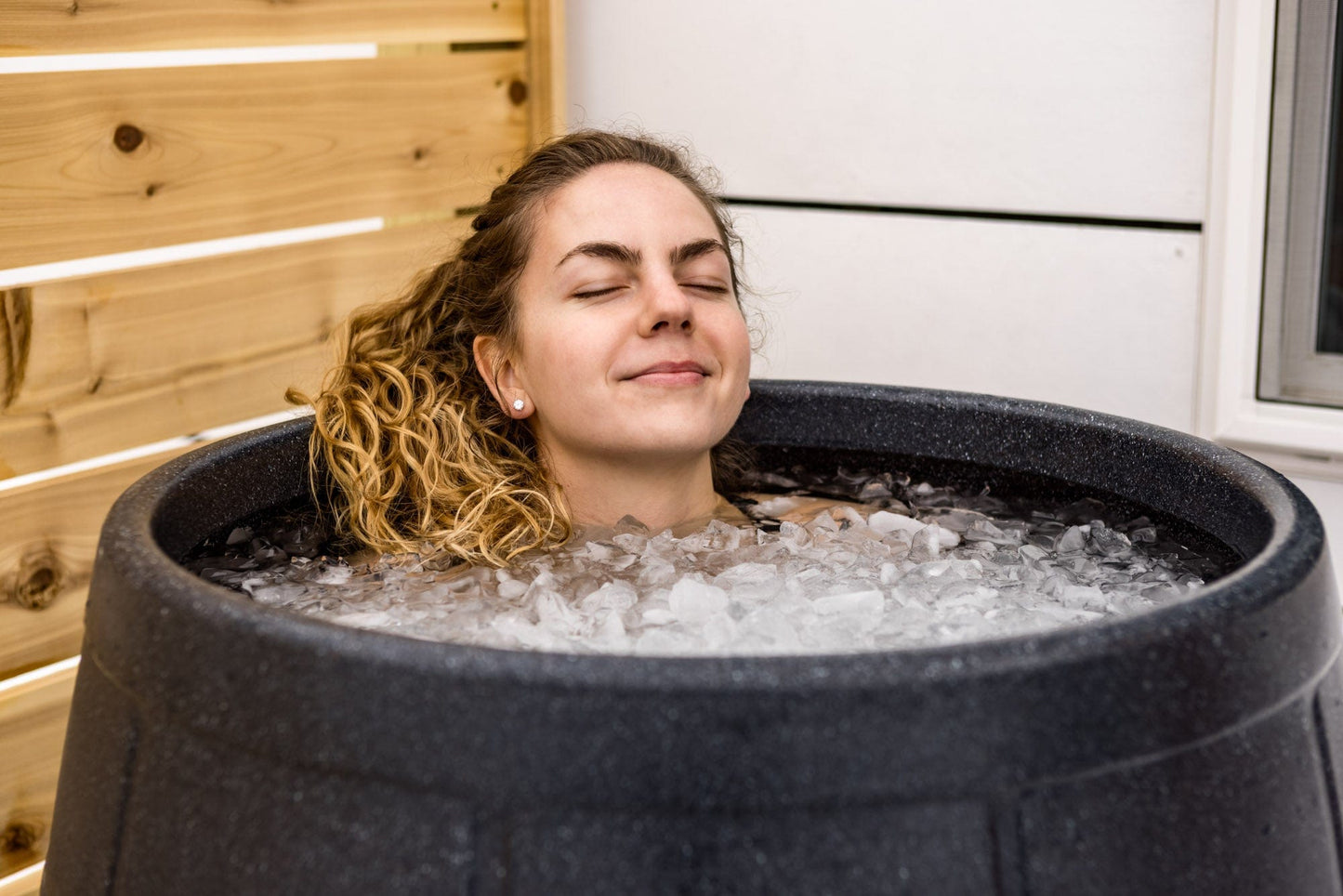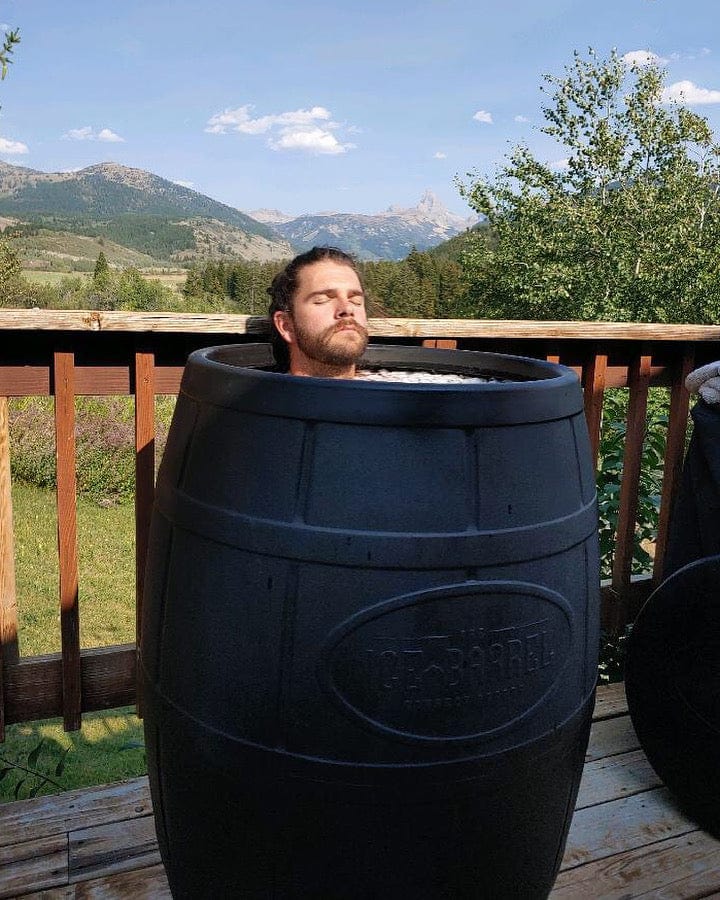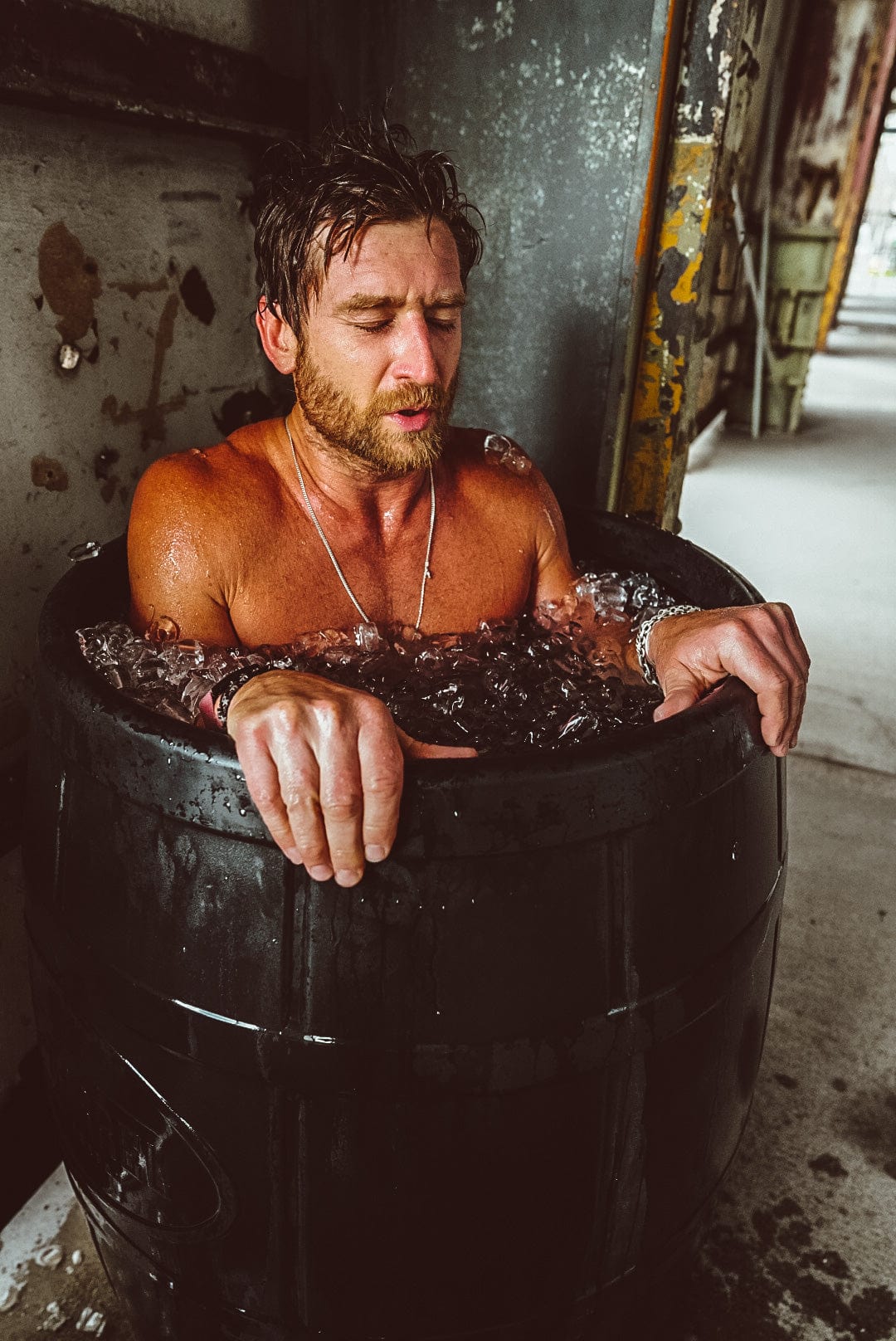 ⭐⭐⭐⭐⭐
Verified Ice Barrel Customer
Ice Barrel is by far the ultimate way for me to participate in daily cold therapy. The barrel's upright build allows me to submerge comfortably (despite being 6'4) and enables me to focus on my breathwork and meditation. It's ideal for getting the total benefits of a cold plunge and I leave the barrel feeling refreshed every single time. - Matt H.
THE ICE BARREL
After countless hours of design and research the Ice Barrel is the leading "Just Add Ice" ice bath on the market today! With a durable build, sleek black look, and a small footprint, we know that the Ice Barrel will make a great addition to your backyard or gym!
Please Note: The Ice Barrel is 42 inches high and 31 inches wide suitable for a single person. If you are seeking a bigger cold plunge or ice bath please click here All Ice Baths
NEXT LEVEL RECOVERY
 Cold therapy has been used by athletes all over the world for the past 30 years. Gone are the days where an ice bath was only found in a training room. New studies actually show that cold therapy is a healthy way to reduce inflammation and increase immune response. This makes the Ice Barrel a gym or backyard necessity when it comes to taking your recovery to the next level.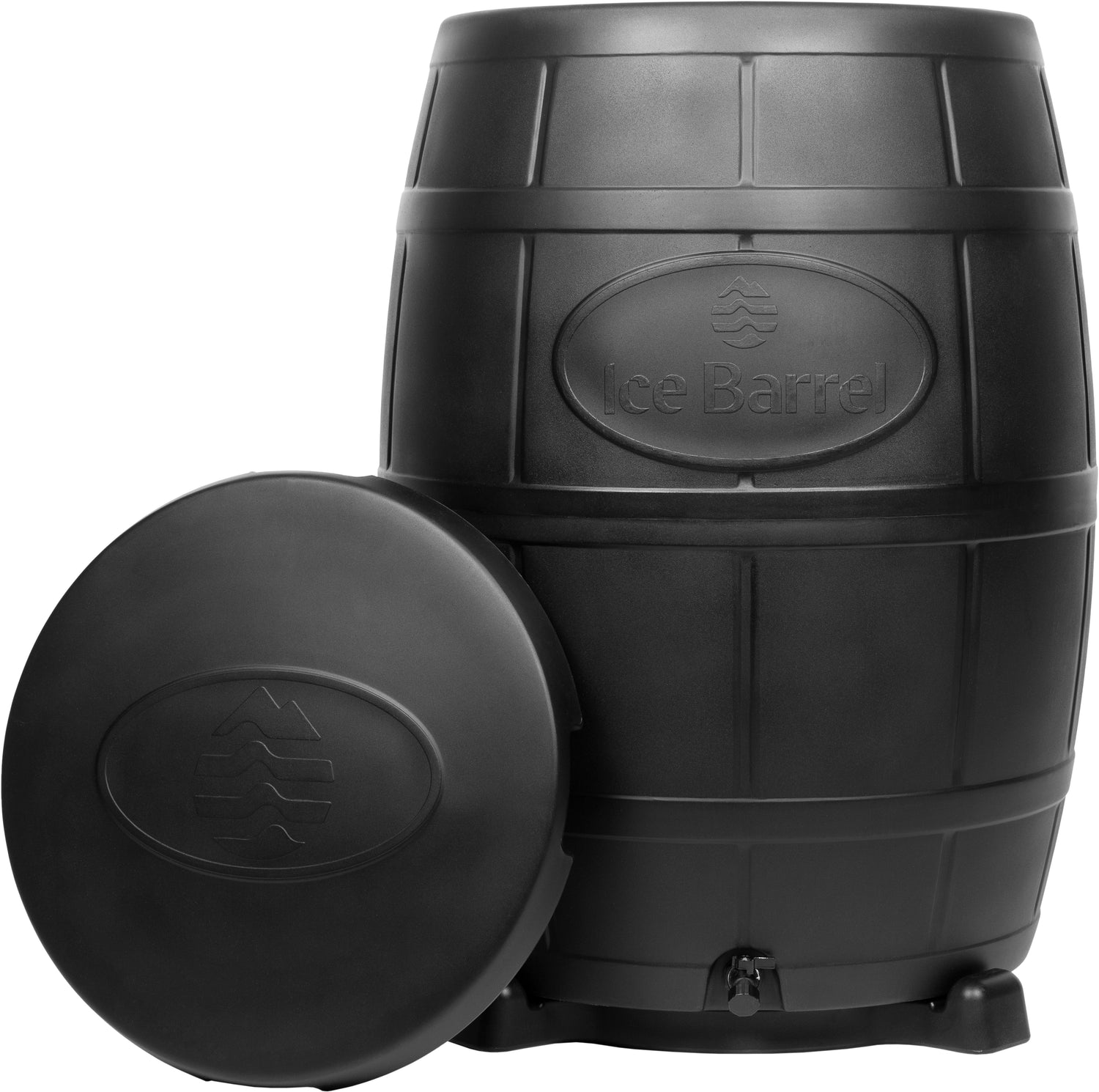 100% RECYCLED Materials
Made out of 100% recycled materials the Ice Barrel is built to withstand the cold. Ice Barrel uses a rotomolding technology to craft every barrel and achieve a high level of consistency. Each barrel is made with thick walls to withstand the weather and any common wear and tear. The Ice Barrel also comes with a stand, lid and UV protection.
EASY DRAINING SYSTEM
The Ice Barrel will hold up to 105 gallons of water so having an easy draining system is imperative to quickly drain and refill the barrel. Simply remove the cover cap from the drain and turn the valve. We recommend changing the water every 4 weeks or as preferred. Be sure to check out the Ice Barrel Maintenance Kit in our Accessories tab to extend the life of the water.
MADE IN THE U.S.A
The Ice Barrel is proudly made right here in the U.S.A. After several years of research and development the Ice Barrel is currently manufactured in Ohio using advanced rotomolding technology. Using this model of production ensures that the Ice Barrels are consistent in their look and built to last.
TOP REASONS THE ICE BARREL IS A BEST SELLER
⦿ Easy Set Up - There is no assembly required with the Ice Barrel ice bath. Simply find a level location in your backyard or gym and set the Ice Barrel on the stand (Included).
⦿ Simply Add Ice - The durable and lightweight Ice Barrel is easy to use and will have you cold temperatures within minutes. Just remove the lid and add your desired amount of ice.
⦿ Sleek Look - The Ice Barrel comes in two colors, black, and desert tan. Both come finished with a UV protective coating and a UV protective outer cover. The modern look will go perfectly on any patio or in any iron paradise.
⦿ Durability - Using the rotomolding method each ice barrel is built with several protective layers making it ultra durable to drops, falls, and weather.
⦿ Environmentally Friendly - The Ice Barrel takes pride in being made out of 100% recycled materials. With every order we are giving back to our ecosystem by reusing materials already in circulation.
Don't Just Take Our Word For It...
★★★★★

"As an Ironman triathlete we are constantly taking ice baths after long workouts. The Ice Barrel is a great product for triathletes and the customer service is A+"

- Kyle E.

☑️ Verifed Customer

★★★★★

"I absolutely love the Ice Barrel…I've tried so many different devices and the Ice Barrel really addressed all the issues I was having…It's not often I buy something and feel this passionate!"

-Josh K.

☑️ Verified Customer

★★★★★

"Everyone should get the Ice Barrel. I just took my first ice bath and it was an incredible experience. I'm hooked."

-John P.

☑️Verified Customer

★★★★★

"The Ice Barrel is amazing! If you are looking for an amazing way to revitalize and build your health look no further! Five stars all the way!"

- Shane M.

☑️Verified Customer
QUESTIONS? OUR TEAM IS HERE FOR YOU!